Home

/

Your car gets serviced regularly – why not your scrubber/ vacuum/ sweeper?
Your car gets serviced regularly – why not your scrubber/ vacuum/ sweeper?
We Service Your Cleaning Machines
Rapid Clean Newcastle services all machines they sell, so we support you through the life of the machine. We encourage preventative maintenance to avoid catastrophic failure from neglected wear and tear, wrong operating settings, and early signs of operator abuse. If you own floor scrubbers, sweepers, high-pressure washers, industrial vacuum cleaners or carpet extraction machines, call us to service and repair them regardless of who you bought them from!
Owners and operators are often unaware of appropriate procedures to maintain equipment daily, weekly, monthly, and six-monthly. The machine manuals advise this but are commonly mislaid. We advise having a copy of the chart, supplied with the machine to be kept on hand, and acted upon. In addition, a supervisor should monitor maintenance. A service contract with Rapid Clean allows a periodic review of both machine and operator to identify and amend practices leading to early failure.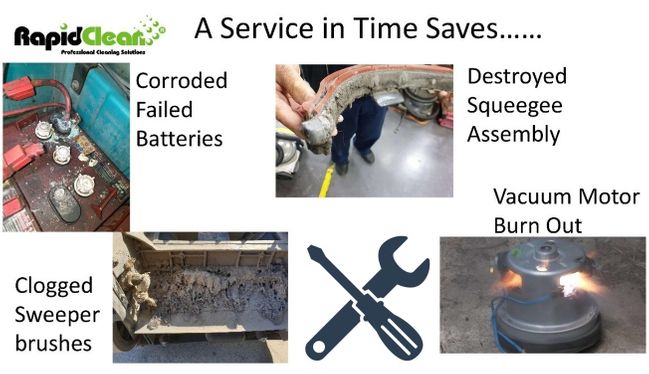 Our in-house service department is second to none in Newcastle. We have a manufacturer trained service technician on-site intent on servicing all brands of equipment. With direct access to major brand spares, we have a fast turnaround. There are some hire machines available for rental to avoid downtime. We offer a pickup and delivery service and can also look after you with onsite repairs and maintenance.
We service the following machine brands
We are the only Newcastle repair facility authorised by manufacturers to service all the following brands: Nilfisk, Gerni, Alto, Tennant, Hako, Karcher, Columbus, Comac, Kerrick, Polivac. These quality brands meet critical needs of reliability, durability, and service support demanded by contract cleaners, industry, healthcare, education, hazardous equipment users, mining, and retailers. Parts are genuine direct from the manufacturers we are authorized to represent unless you authorize generics.
We offer guidelines below on getting the best from vacuums and scrubbers. Call us if you need assistance with staff and forms.
Keeping Scrubber machines running
If you prefer using a scrubber instead of mopping, it needs to keep operating!
Avoiding sharp impacts against walls or machines that jolt pieces loose.

Cleaning squeegees and clearing the vac hose will stop blockages that stop suction.

Cleaning cylindrical brushes of any wire, strapping, string and hairs, remove a load from brush bearings and motors that cause premature failure.

Following chemical dilution and not adding in extra "just in case", avoid chemical concentrates that corrode parts and failures.

Always empty the waste tank before adding freshwater, to avoid overfilling the waste tank into the vacuum motor – they can't breathe water and drown fast.

If batteries need maintenance, give them frequent top up drinks of distilled water or the exposed cells will break down, swell the battery, and it will need replacing faster. Overfilling will cause acidic water to be forced out as charging batteries warm-up, and acidic water corrodes nearby parts. Batteries are expensive!

When going up and down steep ramps, remove brushes and squeegees to avoid bending their mechanisms
So, if you prefer using a scrubber instead of mopping, protect, and maintain it!
Keeping Vacuums running
A vacuum is much more effective and easy to use than sweeping or manual brushing. But it's a machine that needs care or it will give up quickly!
Vacuums have a fixed length cord – that means 18-metre cords will not stretch 19 metres, they break wires in the cables or pull out the machine.
Vacuum motors need to breathe to keep cool – if you don't change the bags before they get full or heavily loaded, the motor strains overheat, and dies. Imagine putting a paper bag over your head and running around the house – you'd soon run out of air too!

Dry vacuum backpacks or canisters don't tolerate water pickup – the vacuum motor corrodes and dies very quickly. You need a wet and dry vacuum instead!

Use disposable vacuum bags and not rely on the cloth filter – it will get sticky and clogged, also sharp objects will attack the cloth, and holes let debris into the vacuum motor which will fail, expensively.

Don't wind up the cord twisting it over your hand and your elbow – it will break down the wires in the cable – use easy loops over one hand

Vacuum cables with nicks exposing wires are potentially lethal – rewire the cable immediately!

Sucking up socks, rags or large debris WILL clog the hose, no surprise. Service technicians keep finding these in hoses.
Vacuums are a great way to avoid manual work, take care of them