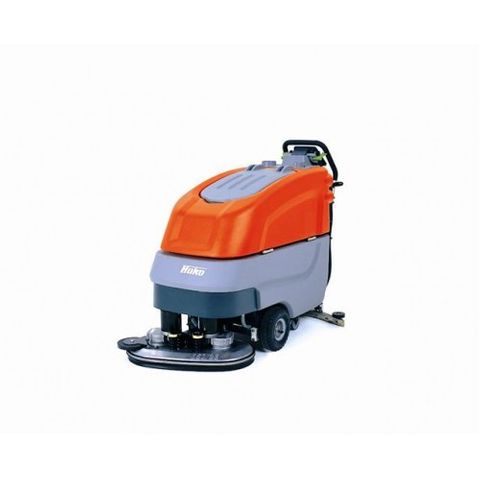 Hako B90 Scrubber
POA
Description
Easy handling, super performance, efficient, environmentally-friendly.
The Scrubmaster B90 CL is perfect for use in all areas where special attention is placed on absolutely hygienic conditions or cleaning in accordance with the HACCP concept. In addition to hospitals, this also applies to old people's homes and nursing homes as well as canteen kitchens and companies processing foodstuffs.
In Scrubmaster machines constructional measures provide active sound insulation. This makes them even more quiet. So they can also be deployed in sensitive areas. The Silent button can be used to reduce the noise emissions of just 63 dB (A)*, already provided, even more.
A further feature in our B90 CL is the solution/recovery water tank being provided with the antibacterial feature HakoAntiBac® , a metal organic substance on a silver base which reduces bacteria and fungus development in the tanks by up to 99.9 % (tested in accordance with JIS Z 2801 / ISO 22196). Advantages for you: tbetter protection for personnel through less contact with bacteria, fungi, spores and unpleasant smells tdemands on hygiene can be much better fulfi lled with the same extent of actual work timproved environmental protection and cost reduction through reduced consumption of disinfectants for cleaning the tanks.
Simple handling, innovative technology and high performance ensures high standards of cleaning and hygiene with reduced running costs. Area performance up to 4,200m2/hr.
Key Features
Compact dimensions

Superior maneuverability

Ergonomic design for maximum operator comfort

Transport speed of up to 6 km/h which may be controlled and reduced at the push of a button

Long running time
ROBUST BRUSH HEADS
Made of corrosion-resistant cast aluminium for the following sizes:
Plate brushes 65 – 85 cm (B70/B90 with connectible pressure increase) or

Cylindrical brush scrubbing deck 60–70 cm. No need to sweep the area first as a result of the patented integrated dirt collection system in an easy-to-empty drawer.
TWO POWERFUL BRUSH MOTORS
Guaranteed even cleaning result over the whole width. Thanks to the low brush deck height (< 10 cm) ideal to manoeuvre underneath protruding obstacles.
One of many options: with the hand held suction tool fluids can be removed easily, even from areas, which are difficult to access.
ENVIRONMENTALLY-FRIENDLY AND ECONOMICAL
The dosage system in conjunction with the automatic filling system. Independent of the chemicals used each time, non productive times, guaranteed concentration.
Additional cost reduction and environmental protection by means of:
Patented Hako Aqua Control System ACS: TUV Certified reduction in chemical & water consumption by up to 50%. .

Brushes and water stop automatically when the machine comes to a standstill.

Speed dependent precise dosage of water cleaning solution. machine slows down, so does the wtaer flow rate automatically. Maximum utilisation and producivity of water cleaning solution.

Maintenance-free batteries as standard - eliminates operator training and service technician call outs relating to poor battery maintenance.

On-board battery charger is standard.

For quick and thorough maintenance cleaning the Scrubmaster B90/B90CL are exactly the right machines.

Running time Scrubmaster B90 up to 5 hours.
Easy, ergonomic operation as a result of the compact and handy design. The simple, clearly laid out construction ensures short training periods and simple maintenance.
ERGONOMIC, ADJUSTABLE SPEED CONTROL.
Using the particularly operator-friendly green Scrubmaster button on the Scrubmaster B90 CL/CLH, by means of the single button function, the brush head and squeegee are automatically lowered or lifted respectively.
In reverse mode the squeegee is also lifted.
Time-saving filling thanks to the large opening on the clean water tank for fast-fill and automatic filling systems. Running time and tank filling are ideally suited to each other.
Even if the floor conditions are difficult, optimum collection of the cleaning solution as the result of new squeegee geometry with additional quick adjustment possibility. Quick fit device for squeegee lips, which can be used four times and which are highly resistant to wear.
Scrubber-drier for efficient wet cleaning of medium and large sized areas.