Home

/

Ghibli T1v3 Rapid Vacuum withHEPA Filter
Blog Archives
Blog Categories
Ghibli T1v3 Rapid Vacuum withHEPA Filter
Stock Code:
CS/T1V3-RVMKII
POA
Description
RapidClean Rapid Vac MKII Backpack
The RapidClean Rapid Vac MkII is a Powerful backpack vacuum with a1450 Watt Motor, weighing only 4.7kg and running at 60 dBA.
With a bonus worth $40: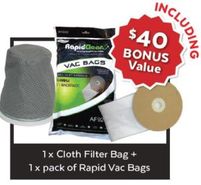 Featuring a new, modern design and a comfortable padded 3-strap harness support system.
Features:
1450 Watt Max. Power Motor
Motor Thermal Protection
H14 HEPA Filtration
5 Level Filtration System
Comfortable Padded 3-Strap Support System
Strong Harness Assembly
Switchable Left and Right Hand Clear Lid
6 Litre Cloth Filter Bag with Metal Reinforced Ring
Exhaust Deflector
Short IEC Lead with Premium 20 Metre Orange Extension Lead
Carry Handle for easy transport
Cable Restraint Assembly
Wessel-Werk Low Profile Floor Tool
2-Piece Aluminium Extension Rods & Black 1.2m Long Vacuum Hose
Tools and Accessories: Crevice Tool, Dusting Brush, Upholstery Brush & Caddy
Lightweight (4.7kg)
51 Litres P/Sec Airflow Rate
Quiet Operation (60 dbA)
Warranty – Body: 12 Months | Motor: 2 Years
HEPA is a type of pleated mechanical air filter. It is an acronym for "high-efficiency particulate air [filter]". This type of air filter can theoretically remove at least 99.97% of dust, pollen, mold, bacteria, and any airborne particles with a size of 0.3 microns (µm). The diameter specification of 0.3 microns responds to the worst case; the most penetrating particle size (MPPS). Particles that are larger or smaller are trapped with even higher efficiency. Using the worst-case particle size results in the worst-case efficiency rating (i.e. 99.97% or better for all particle sizes).
All air cleaners require periodic cleaning and filter replacement to function properly. Follow manufacturer's recommendations on maintenance and replacement. Some filters are washable but may deteriorate in that process. HEPA filters need replacing before they block up which may cause strain on the vacuum motor that relies on free-flowing air to cool.
ADDITIONAL ACCESSORIES