Home

/

Preventative Maintenance | Rapid Clean Newcastle
Preventative Maintenance Protects Your Cleaning Equipment
When you have your cleaning equipment serviced in our workshop, we can assist in identifying worn parts and operating practices that need changing to protect your equipment. Too often our technician sees the catastrophic failure of major parts due to prolonged neglect. This causes costly damage, and it prevents you from using the machine until repairs are finished. Major parts are sometimes not available for weeks while they are imported by manufacturers. This could have been avoided by an early check.
We carry in stock popular vacuum bags, hose, and floor tools so you can keep your machines running and cleaning properly. In addition, our service turnaround is commonly the same day, or within two days if we need to order from suppliers. We source directly from manufacturers for almost all major equipment brands, so you get fast service, genuine parts when you want them, and full warranty support from manufacturers.
Common repair problems are:
clogged filters causing motor overload worn/ frayed/loose connections that short circuit electrical components, especially costly circuit boards
amateur repairs using non-standard parts that fail badly, including bypassing key circuits. Generic parts are often not identical to OEM parts and so fail prematurely or cause consequential damage
poor maintenance of brushes/ pad holders/ hoses/ tanks that get clogged or jammed
repeated impact by operators against walls and humps/dips that eventually break major components
So, bring your machine to us, or have us collect it, to protect your valuable equipment!
Empowering Customers
At Rapid Clean Newcastle, a core value is providing technical support to resolve customer challenges. Sometimes the challenge is a crisis needing immediate cleaning solutions. At other times we empower customers with training and advice to safely use products to achieve optimal outcomes. This technical forum will present information from suppliers and our staff that may assist customers, and we welcome appropriate material to add.
We offer SDS information on all chemicals we sell, to be displayed at all worksites we supply. We prepare customised charts of chemicals on-site to allow legal compliance and immediate safety information in the event of accidents.
Our suppliers offer hands-on training or technical material, to improve awareness and skills relating to the use of their products.
Our field sales staff, internal sales team, and service dept offer information in person or through sourcing answers needed.
Our training facilities are available by arrangement for training and meetings of customer staff, to gain exposure to product options and usage techniques. In September we will be offering carpet cleaning training at basic and advanced levels.
Empowering customers is sometimes about improving value by reducing cost, through product selection and usage. Good examples would be adopting microfibre flat mopping instead of traditional round mopping, which will save time, chemicals, OHS costs, and reduced cross-contamination. Another would be switching paper dispensers to auto cut machines instead of interleaved hand towels, or worse center-pull dispensers, that save over 30% in paper costs. Ask us for detailed information on each project.
Colour Coding Guide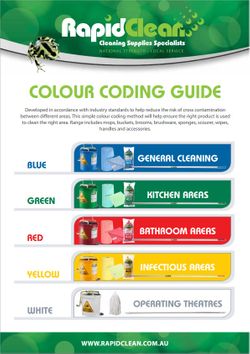 The chart is developed in accordance with industry standards to help reduce the risk of cross-contamination between different areas.
This simple colour coding method will help ensure the right product is used to clean the right area.
The range includes mops, buckets, brooms, brush ware, sponges, scourer, wipes, handles and accessories.
Carpet Spotting Tips
Have a stain you can't seem to budge? Nervous about how to do the cleaning job? Let us help with our Carpet spotting guide.
Stain selection, and cautious and effective cleaning, are covered in the charts. Contact our staff to make an informed decision on which chemicals to use, machine usage, and technique.
Cleaning And Maintaining Your Vacuum Cleaner
A full complement of cleaning equipment and tools ensures that you can tackle any cleaning job. However, it can be easy to forget to maintain and clean the equipment itself. Learning how to clean and maintain your equipment and tools will keep them working effectively. It will also save you money in replacement costs be doing inexpensive preventative maintenance that reduces the chance of major damage from electrical or overloaded motors.
Click Here To Read How You Can Maintain Your Vacuum Cleaner
Cleaning And Maintaining Your Floor Cleaning Equipment
Maintaining cleaning equipment is important because if your tools are stored incorrectly the bacteria you're trying to eliminate will grow right on or in them. Develop a tools cleaning and storage system and instill its importance in your workers. Make cleaning and storing tools a part of your entire cleaning system.
Click Here To Read how You Can Maintain Your Floor Cleaning Equipment
Selecting A Pressure Washer
How do you know which high-pressure machine is right for your job? This easy chart can help narrow down the selection.
It guides you through the cleaning challenge of hours and difficulty and then considers engine type.
Call us to discuss your application and we will ensure you make an informed choice with satisfying outcomes.
CLICK HERE FOR YOUR GUIDE ON HOW TO SELECT A PRESSURE WASHER
IF YOU HAVEN'T SWITCHED TO MICROFIBRE FLAT MOPPING, YOU ARE EXPOSED TO HIGH COSTS, OHS RISK, AND DIRTY SURFACES
And here is why…..
Traditional round mops and buckets use higher volumes of chemicals and water that cost money. Savings of 70%+ are possible with controlled dilution on flat mops that carry as little as 200ml of chemically diluted fluids – that compares with a litre in a mop. Switching to flat mops protects the wallet and the environment.
The productivity of workers using round mops is poor as they need to repeatedly empty buckets at drains and refill them at dilution stations. Instead, dirty flat mops are changed at the point of cleaning and replaced with clean flat mops, maximising cleaning time efficiency. Smart mop handles with internal fluid chambers allow additional cleaning fluid to be added to the flat mops at the point of cleaning.
Traditional mops and buckets incur injury labour costs from repetitive strain injuries from workers lifting up to 16kg of mops and heavy buckets. Flat mops and handles are lightweight, and with Velcro allow all changes to be done without bending over. Micro fibre mops are selected according to floor type to ensure easy gliding over surfaces, minimising work effort. Mops are also selected to match dirt loads and adhesion, reducing cleaning effort at scrubbing. Flat mops protect workers and reduce possible OHS legal and financial risks.
Cross-contamination costs and litigation are reduced when micro fibre flat mops and cloths are changed after each room is cleaned, along with gloves. Disposable flat mops like those offered by Oates Decitex system strengthen this discipline, now being embraced by NSW hospitals.
DOWNLOAD THE OATES DECITEX FLAT MOP SYSTEM BROCHURE BY CLICKING HERE
ARE YOU GETTING THE BEST VALUE FROM YOUR HAND TOWEL PURCHASES?
The Autocut Dispenser is a market leader in both performance and innovation. Through single, flat-sheet dispensing, Rapid Clean's Autocut Dispensers with accompanying 200m hand towel are able to reduce paper costs by over 30% and eliminate cross-contamination (as the paper you touch is the paper you use). By providing more wipes per roll, fewer roll changes are required. This is the ideal dispenser for all high-traffic areas.
To suit 200m Hand Towel
SAVE: COSTS, WASTE and LABOUR
Hygienic no-touch dispensing
HACCP accredited
Automatic Mechanical Cutting
Controlled feed dispensing (no cross-contamination and minimises wastage)
Easy loading and fully enclosed (ensures paper stays dry and clean)
Made of tough impact-resistant materials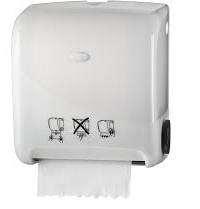 RapidClean Total Cleaning Supplies